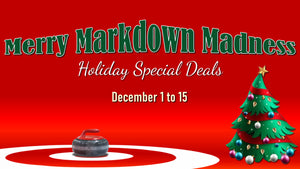 Style Meets the Ice
Shoes
Brooms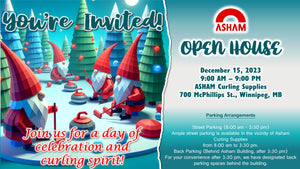 ASHAM OPEN HOUSE EVENT
Test your skills with curling games, win fantastic prizes, and enjoy delicious
treats.
PLUS, AMAZING DEALS & SAVINGS
IN-STORE! BEST CURLING GIFT FINDS!
Explore our latest curling products at the showcase, get an exclusive behind-the-scenes look at our manufacturing process, reconnect with the local curling community, and receive expert advice from our team to elevate your game!
Asham is here to serve you!
When you choose Asham, your satisfaction is guaranteed!
All Asham products are warranted to be free of defective materials and workmanship for the life of the product.
NO PROOF OF PURCHASE NECESSARY*
Read our full warranty policy HERE
Any shoe made right for you!
We have a wide selection of curling shoes for curlers of all skill levels that be modified to fit your needs! BUT if you still can't find the Asham shoe that is right for you we can customize any shoe right in our factory! Learn more here
Free Shipping*
Free Shipping on Orders over $250 within Canada and $300 in the USA.*
Order today and receive free ground shipping on orders over $250 within Canada and $300 in the USA. Learn more about our shipping policy here.
Sign up & save on your favorite Gear!
Promotions, new products and sales. Directly to your inbox.
Testimonials & Quotes
We owe so much of our success to Asham and their stellar equipment. Their rotator disc technology has allowed us to elevate our game to the next level. The light weight and high quality of their Express Ultra Lite shoes allows us to compete on the National and International stage. We wouldn't have been able to win a World Championship without their amazing support and equipment. Thank you Asham!

Team Zacharias-2020 World Women's Junior Curling Champions
I don't know if people curl because they are nice or are nice because they curl but all I've ever met in curling are nice people.

Jack Matheson
Are your shoes a drag?
Our shoes are not because we've been curling with asham shoes for years. One of the biggest issues we had was a drag from our trailing curling shoe. The asham shoe lace covers solved this for our team years ago. The lace cover reduces drag on the trailing foot, providing better weight control for our team, in addition, the shoes are lightweight, and the advantage of the gripper disks being easily changed and the variety of sliding disks allow for custom sliders that cater to each member of the team. Every member has a different preference but allows us all to play with the same equipment.
Sheena uses the hard ano, Jen and Julie use the teflon and Kaitlin uses the ring disks. The grippers being easily replaced allows us to reduce time of what used to be having to send shoes out for weeks at a time to have the non-sliding foot replaced. This freed up time for us having to send gear away and improved our level of play. Ashamshoes have always been the best. We highly recommend them or quality and for ease of use.
Less time on managing your equipment and more time spent on the ice.

Team Crouse
Throughout my development from when I was a
young kid trying curling for the first time to now when I am competing against
some of the best competition in the world, Asham curling shoes have been there
since the start. The dual disc technology gives me stability throughout my
slide and minimizes my drifting so that I can slide straight to the broom.

Adam Flatt, Lead Team Wiebe
Asham Pro-grip curling glove has been a game-changer
for me. As a lead sweeping is a huge part of my game and I was finding that my
hands kept slipping on the broom. With the Asham Pro-grips gloves, the fabric
interacts with the broom in a way that prevents slippage and keeps my hands in
the correct position so that I can maximize my brush strokes.

Adam Flatt, Lead Team Wiebe