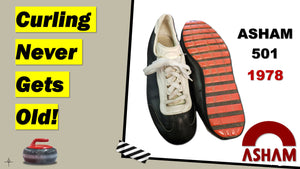 Curling Never Gets Old
Curling sport has been around for many centuries now, it is believed that the game originated in Scotland in 16th century and was said to be played on frozen lochs and ponds. Early 1800 when Scottish introduced the sports in Canada and in 1807 the first curling club was established in Montreal. It is in 19th Century when curling became a notable Canadian sport and was transformed in line with Canadian culture. The significant and historical transformation of the sport was brought about by the huge settlement of Scottish in Ontario and the growth of trading and railways during the time. From the eastern part of Canada, the sport made its way to the western region in 1850, with several clubs being formed and inter-club competitions became a tradition. Nowadays, curling is one of the prominent games in Olympic Winter Games and had become a full medal sport in 1998.
The brand Asham was introduced in 1977, Arnold Asham for his love of curling was able to design an innovative new slider which has been the booster of the brand. From then on, the business expanded to offering a wide variety of products ranging from apparel, shoes, brooms to novelty items. More than just a businessman, Arnold Asham made a great contribution  to the curling sport, he founded the World Curling Player's Association and is the co-founders of the World Curling Tour.
To strengthen and support the curling sport, we thought of coming up with a fun game to commemorate those who are keeping their oldest Asham curling item. We know some keep their sports gear or accessories as memento for its sentimental and historical value.
It will be fun to know who has the oldest curling gear and your chance to show and share your curling story!
Probably you are keeping an Asham broom that was passed on to you by someone dear/close to you, we would love to hear their story and yours too!
We are hoping to make this a way to connect everyone, old and new curlers as well as aspiring curlers.
To join the contest and submit your entry, please visit our Facebook page @AshamCurling.
---